SLS-005 (trehalose) for Sanfilippo Syndrome, OPMD, and SCA3
Trehalose, which is currently an investigational molecule, has been studied in prior phase 2 clinical studies in over 70 patients with two rare diseases and demonstrated a favorable safety profile and promising efficacy signal
Seelos is currently collaborating with Team Sanfilippo Foundation, who will sponsor an open label, phase 2b clinical trial in up to 20 patients to investigate SLS-005 for the treatment of Sanfilippo Syndrome
Sanfilippo syndrome (or MPS III) is an inherited monogenic lysosomal storage disorder divided into four subtypes
Occurrence of 1 in every 70,000
Progressive disorder, with life expectancy of 10–20 years
Oculopharyngeal Muscular
Dystrophy (OPMD)2
Rare disorder
PolyQ muscular disease caused by mutations in PABPN1 gene
Orphan designation (US/EU)
Fast track designation (US)
Largest cluster among French in Quebec, Canada (1 in 1000)
Additional clusters in Bukhara Jews of Israel and in Hispanics of New Mexico
Spinocerebellar Ataxia
Type 3 (SCA3)3
SCA3 (or Machado-Joseph disease) is an autosomal dominant cerebellar ataxia (ADCA I) due to CAG repeat expansions in ataxin
Adult-onset neurological PolyQ disease that begins between the ages of 20 and 50
Orphan designation (US/EU)
Most commonly affects individuals of Portuguese/ Azorean descent
Lavery C, Hendriksz CJ, Jones SA. Mortality in patients with Sanfilippo syndrome. Orphanet Journal of Rare Diseases, 2017;12(1):168.
Source: Oculopharyngeal Muscular Dystrophy. National Organization for Rare Disorders (NORD). Available at: https://rarediseases.org/rare-diseases/oculopharyngeal-muscular-dystrophy/. Accessed March 2019.
Coutinho P, Andrade C. Autosomal dominant system degeneration in Portuguese families of the Azores Islands: a new genetic disorder involving cerebellar, pyramidal, extrapyramidal and spinal cord motor functions. Neurology. 1978;28 (7) 703- 709

About SLS-005 (Trehalose)
Trehalose is a low molecular weight disaccharide (0.342 kDa) that protects against pathological processes in cells
It has been shown to penetrate muscle and cross the blood brain barrier
Two U.S. patents for parental administration of trehalose exist for patients with OPMD and SCA3; both are expected to expire in 2033. In addition, Orphan Drug Designation for OPMD and SCA3 has been secured in the U.S. and in the EU
Trehalose Mechanism of Action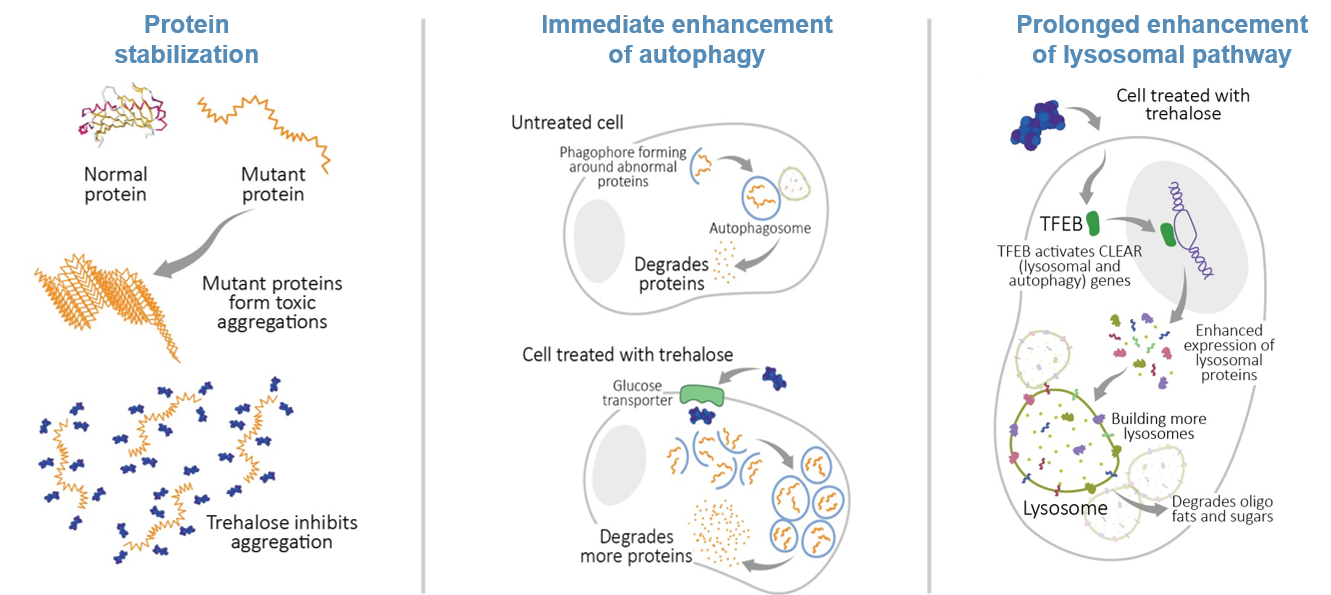 Mayer AL, Higgins CB, Heitmeier MR, et al. SLC2A8 (GLUT8) is a mammalian trehalose transporter required for trehalose-induced autophagy. Scientific Reports. 6 (38586).
Available at: https://www.nature.com/articles/srep38586#f1 Accessed February 2019.
Uchida K, Unuma K, Funakoshi T, et al. Activation of Master Autophagy Regulator TFEB During Systemic LPS Administration in the Cornea. Journal Toxicol Pathol. 2014;27(2):153–8.
Trehalose Reduced Storage of Unprocessed Macromolecules in Sanfilippo Syndrome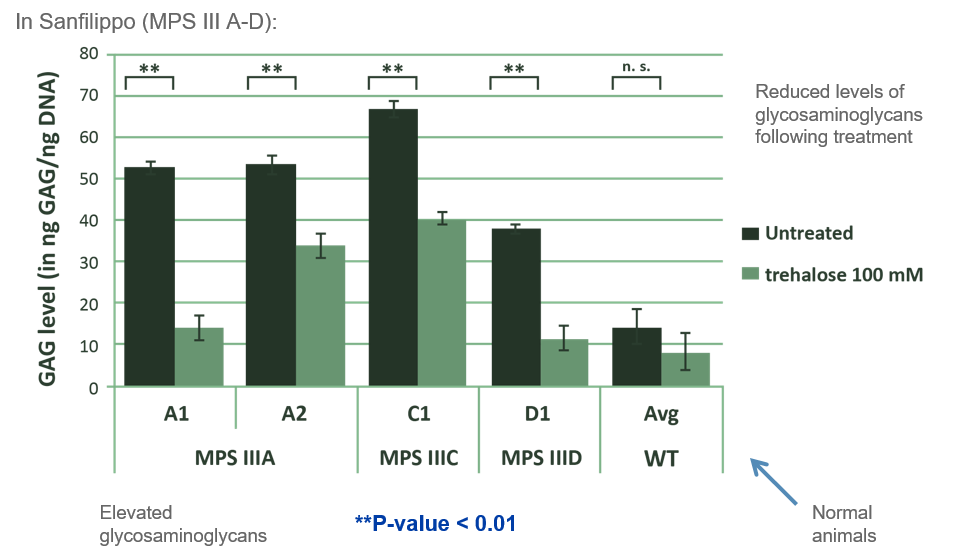 Mauri V.. Trehalose-mediated enhancement of glycosaminoglycan degradation in the lysosomal storage disorder Mucopolysaccharidosis III. Inaugural-Dissertation zur Erlangung der Doktorwürde der Hohen Medizinischen Fakultät der Universität zu Köln. 2014. Available at: https://d-nb.info/1047324342/34 Accessed February 2019.